World
Abortion forum: 2020 Democrats to take part in first US debate on reproductive rights
As state after state enacts sweeping new restrictions on abortion, several Democratic presidential hopefuls, eager to prove their unwavering support for reproductive rights, are charging headfirst into a debate over one of the most fiercely fought issues in American political life.
On Saturday, nearly all of the Democratic candidates will participate in a first-of-its-kind forum on women's health and reproductive rights hosted by Planned Parenthood Action Fund in Columbia, South Carolina. Organizers say the event offers the candidates an opportunity to shape the conversation around women's health and abortion in a climate that is now increasingly hostile to reproductive rights.
"This is really the moment for the candidates to make clear where they stand on the full range of reproductive healthcare, including abortion," said Kelley Robinson, the group's executive director. "Whoever wants to lead the United States and serve in the office of the president is going to have to be clear and accountable to voters on this issue."
The South Carolina forum comes after a raft of states in the South and Midwest enacted some of the most restrictive anti-abortion legislation in recent memory – laws specifically designed to serve as a direct challenge to Roe v Wade, the landmark 1973 Supreme Court ruling that legalized abortion nationwide.
Last month, Alabama's governor signed into law a near-total ban on abortion. In Louisiana, John Bel Edwards, the state's Democratic governor, approved a law banning the procedure as early as six weeks into a woman's pregnancy. Several other states including Indiana, Ohio, Arkansas and Utah have also limited or restricted access to the procedure.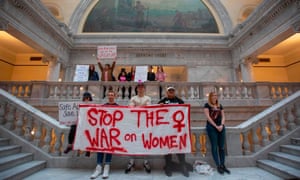 With a conservative majority on the supreme court and a bevy of laws waiting in the wing, Roe's fate is increasingly vulnerable. Alarmed, Democrats are leaving little ground for nuance in their support for abortion.
Earlier this month, Joe Biden reversed his long-held support for an abortion measure amid sharp backlash from his Democratic rivals. His switch on the Hyde amendment, which prohibits federal funding for most abortion, came just a day after he affirmed his support for the measure.
"Reproductive rights are human rights, period. They should be nonnegotiable for all Democrats," tweeted Kirstin Gillibrand, who has made abortion access a central piece of her presidential campaign.
Twenty of the party's 24 contenders are expected to participate in the forum, which coincides with a busy weekend of presidential campaign events, including the state Democratic party's annual Blue Palmetto Dinner followed by congressman Jim Clyburn's World Famous Fish Fry.
Among the candidates confirmed are Biden, senators Bernie Sanders, Elizabeth Warren, Kamala Harris, Cory Booker and Gillibrand, South Bend Mayor Pete Buttigieg and former congressman Beto O'Rourke. They will each have 15 minutes to answer questions from the group's members about to explain their position – and their policy ambitions – on issues like abortion, women's health care and contraception.
"This is a different moment than at any point in the last 10 years," said Stephanie Schriock, the president of Emily's List, which helps female candidates who support abortion rights run for office. "Women, and a lot of men too, are riled up about this issue."
The Trump administration has targeted Planned Parenthood, which provides reproductive health care to 2.4 million mostly low-income patients each year. On Thursday, a panel of federal judges allowed a Trump administration rule that would cut off tens of millions of dollars in Title X funds from the women's health organization.
In this climate, Robinson said rhetorical support for abortion rights is not enough. She expects the 20 candidates participating in Saturday's forum to elevate the debate around how far they are willing to go to override state abortion restrictions and preserve access if Roe is struck down.
"It's important to give candidates a chance to not only say where they stand on these issues but to say, if they were elected president, what they would affirmatively do to expand access and care," she said.
Several candidates have vowed to codify Roe, abolish the Hyde amendment, restore funding to Planned Parenthood and only appoint supreme court justices who would protect reproductive rights.
Americans views on abortion are nuanced and difficult to poll. If Democrats adopt hard lines on abortion, they could risk alienating voters who support abortion but with some limitations. An NPR/PBS NewsHour/Marist poll released earlier this month found that 77% of Americans believe the supreme court should uphold Roe even as a majority of respondents believed there should be more restrictions on abortion rights.
Trump, cheered by conservatives as the "most pro-life president ever," has sought to gain ground in the the debate by focusing on the politically fraught and widely misunderstood issue of "late-term abortion". Despite his false characterization of the rare and medically complex circumstances that lead to the procedure at this stage in a pregnancy, a majority of Americans believe it should be illegal to terminate a pregnancy in its final months making it harder for Democrats to defend.
Yet many Democrats believe the onslaught of state and federal attacks on abortion have gone too far and will instead galvanize key voting groups, especially young people and women who turned out in record numbers during the 2018 midterms to help Democrats win back the House majority.
In a private memo published by Axios, Democratic pollster Geoff Garin of Hart Research argues that Democrats should "lean into" the fight over Title X funding. He cited the NPR/PBS/Marist poll, which also found that women voters said they trusted the Democratic party more than the Republican party "do a better job of dealing with the issue of abortion" by a margin of 50% to 29%.
"Given the results," Garin writes, "there is a clear benefit to shining as much of a spotlight as possible on Republican policies that impose more restrictions and burdens on women."