World
Lucy Jones: 'I paint on the floor – it's less far to fall'
'When someone says, 'with a handicap like yours,' what they are really telling you is that you shouldn't expect too much out of life," says Lucy Jones. "People try and curtail your movements and abilities."
This is a big year for the British painter, with two major exhibitions about to open in the UK. Now 64, Jones was born with cerebral palsy, a lifelong condition affecting movement and coordination. For most of her career, she hasn't wanted to talk about her disabilities. "I am still not terribly happy with people putting me into a strange box of 'disability', quite often it seems invasive."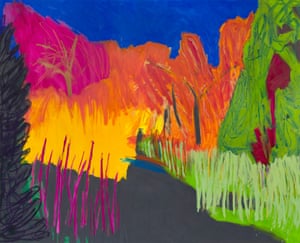 In her art, however, she has never avoided the subject – and she has never been more confident of who she is than in her latest paintings, currently on show at Flowers Gallery, London, and soon at a big new retrospective in Leicester, exploring three decades of prolific work. In a new series of self-portraits, Jones paints herself as never before – full bodied, in lucid lines and celebratory colour. It's a new phase for the artist who not only has cerebral palsy but severe dyslexia and experience of depression, too.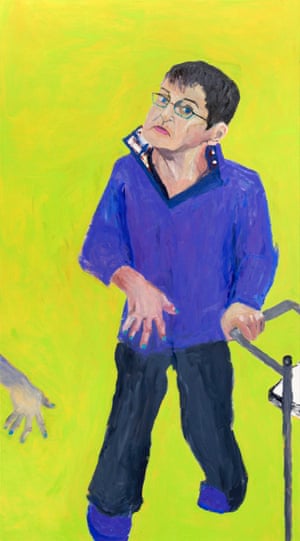 When out with her "wheelie" – as she fondly refers to the frame she uses to help her walk – Jones is used to being stared at. Her paintings allow her to reverse the gaze and stare back, putting us in her shoes. For Jones, disability is something the rest of the world needs to learn to deal with, rather than something she should be expected to explain. Paintings are a form of protection.
Though the cerebral palsy affects her body and makes painting an immense physical effort, Jones's greatest challenges have come as a result of dyslexia. She was only diagnosed in her 30s. In a painting completed this year, Just Looking, Just Checking on You, Jones challenges the viewer to decipher words reflected in a mirror; not unlike what she goes through when she reads. "Watching You Looking at Me," the text shouts at you, once decoded. Jones admits that it is deliberately "quite aggressive … In my self-portraits I reflect back other people's projections."
Art gave Jones the opportunity to think, without the prison of words. An early aptitude for creativity lead her to study at Byam Shaw (now Central St Martins), then at Camberwell School of Art – where she earned a first – and then at the Royal College of Art. When she finished her masters there in 1982, she won a scholarship for painting at the prestigious British School of Rome.
Though she thrived academically, when Jones returned to London in 1984, she struggled to have her work accepted by any commercial gallery. "They were probably thinking, 'oh go away, you wobbly lady'!" Jones quips with a wit that often finds its way into the titles of her paintings; a coping mechanism, but also one of the compelling aspects of her work.
In 1985, aged 30, and following a particularly difficult year, a turning point for Jones came when she was picked up by art dealer Angela Flowers. She has been with the gallery ever since. In May, the new works she will present prove just how far she has come in three decades: unflinching self-portraits and jubilant landscapes, easily as good as any Hockney. She used to paint London's bridges, but since relocating to Shropshire 15 years ago, she has been inspired by her garden and the countryside.
Painting landscapes are a physical feat for Jones: she kneels on the ground to do sketching, and back at her studio, a converted barn, a trolley supports her as she moves to paint over her canvases. Her balance is fragile – she paints on the floor, on her hands and knees – "it's less far to fall!"
This close physical contact with the earth give Jones' landscape paintings a perspective that is completely unique; her paintings allow her to explore the world in another way. "The landscape gives me a freedom of mind, air and space, exactly opposite to painting myself or portraits. I need to be outside to live, to think and just be."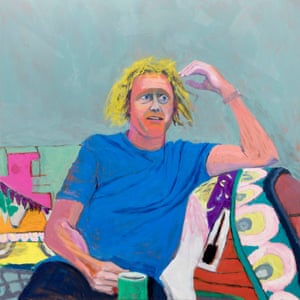 Painting has made Jones visible – to paint herself back into the world. It has also had a transformative effect on her life. "My relationship with myself has changed over the years, especially with my self-portraits, which used to be more about the depressive outlook I had on life. I have moved through many phases of engagement with the world. Now my work is moving more towards commenting on how people might look at me or someone else I paint."
At her exhibitions, Jones will reveal her recent paintings of other people – her first subjects are the men who have played an influential role in her personal and professional life. They have never been seen before. There's an imposing portrait of her late father; a tender view of her husband, Peter; her close friend, the social scientist Tom Shakespeare, her gallerist Matthew Flowers – and a vulnerable-looking Grayson Perry, gripping a mug of tea. The Perry portrait is titled The Seeing Orator – another dash of Jones's incisive irony.
It's hard to think of any contemporary artist working in the UK now who has overcome as much adversity as Jones. So why hasn't she received more attention?
"I think people are quite nervous about dealing with somebody like me," she suggests. Diversity might be firmly on the cultural agenda, but there is still a long way to go. Yet to overlook her humane and timeless work would be foolish: she is an empathetic observer of the human condition, and of human vulnerability – the things that make every one of us a bit "wobbly".
Lucy Jones, Landscape and Inscape, New Work is at Flowers Gallery, London, until 6 July. Lucy Jones: Awkward Beauty is at Attenborough Arts Centre, Leicester, 27 July to 6 October. The artist's book, Awkward Beauty, is published by Elephant in association with Flowers.